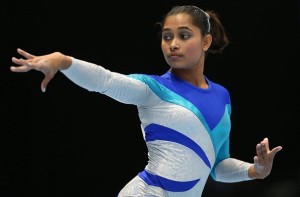 Mumbai: The 23-year-old from Tripura, Dipa Karmakar, the first woman gymnast from India to qualify for the Olympics, although didn't win a medal, but won the hearts of all the Indians with her impressive performance in the finals. She bagged an impressive fourth position in the women's vault finals in Rio de Janeiro on August 14, 2016. American Simone Biles took the top prize with a final score of 15.966.
Coming in as the sixth competitor in the finals, the Tripura girl went for the 'Tsukahara' in her first attempt in which she collected 14.866 points. She went for a difficulty level of 6 and got 8.855 for the execution.
In her 'Produnova', Dipa did everything right except that she did not have a perfect landing as she just touched the ground and thereby losing points.
She scored 15.266 from her 'Produnova' with 8.266 points for execution for a difficulty level of 7. The average of the two attempts gave her 15.066, a mere 0.15 difference with bronze winner Steingruber.
Dipa, will hold her head high as she has scripted history by becoming the first Indian to qualify for the vault finals in her first Olympics. Apart from being the first Indian woman, she was also the first Indian gymnast to have qualified for the Olympics after 52 long years.
Since independence, 11 Indian male gymnasts have taken part in the Olympics (two in 1952, three in 1956 and six in 1964), but this was the first for an Indian woman at the Olympics.