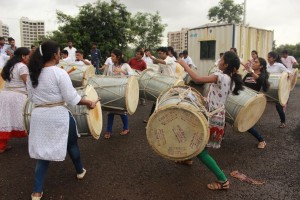 With dhol tasha gaining massive popularity, especially during Ganesh and Durga festivals, the number of women participating in various dhol tasha troupes has seen a huge increase in the recent years. Erstwhile considered to be male dominated field, it is a pleasing sight to see a large number of women, with 23 or 25 inches dhol tied to their waists, accompanying the dhol-tasha troupes, matching their male counterparts 'beat for beat'.
"It is really heartening to see that more and more women are joining in the dhol-tasha groups, which has been considered a man's fiefdom," says Priyanka Vijay Kank (38), manager-cum- trainer of Vadal Dhol Pathak, a dhol-tasha group in Navi Mumbai.
Priyanka's troupe which started with 10 dhols, three tashas and 10 people, today has 65 students amongst which 15 are girls in the age group of 18-38 years and 50 boys in the age group of 10 to 24 years. "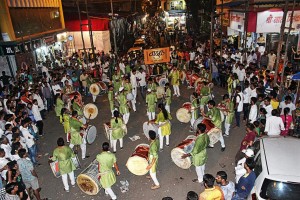 It is nice to see that girls from diverse educational fields and professions have joined in our group, who effectively juggle their personal and professional commitments and duties to train and perform," stresses Priyanka.
"Learning dhol or tasha is just like learning any other musical instrument. One needs to have dedication, discipline and constant practice and most importantly physical stamina as the participants need to walk long distance along with the procession for nearly three hours while playing dhol," says Priyanka.
"It is indeed a great physical challenge as one not only has to carry the load of dhol tied to the waist but also move along the road without missing a beat," says Shital Sabale from the group.
"The training sessions are tough. As unlike other instruments, playing dhol, though may look easier, but needs lots of practice. Likewise, tasha too requires lots of practice, as they are beat based and if one misses the rhythm, the entire music gets affected," adds Priyanka.