"Adversity causes some people to break; others to break records." Well this is what the Football's Wonder Girls from Alakhpura village in Bhiwani, Haryana have been doing since many years. Despite limited facilities and resources, zero sports infrastructure and poor financial backgrounds, the girls from this small village, have become champion footballers, bringing laurels at both State and National levels in the under -14, under -17 and under -19 categories from 2009 onwards.
They stood third in the prestigious Subroto Mukherjee International Football Tournament in 2012. In 2013, they stood Second and last year in 2015, they won the Tournament, beating long time favourites Manipur. They have also Qualified for the Under 17 category in Subroto Cup 2016 starting from October 1, 2016.
The daughters of marginal farmers and daily wages, these girls have been churning marvels under pathetic rough conditions. In the absence of proper ground, the girls have been practising on panchayat land, which was a pond a couple of years ago. The ground still lacks boundary wall due to which the ball slips to the pond nearby and the practice session gets interrupted till the ball is fished out. Besides, the players practice their drills in the midst of bathing buffaloes, use bricks as marking cones and use bamboo ladder for speed and agility ladder. Due to financial constraints, the players do not even have proper sports shoes and practice on sand barefoot.
The children were introduced to Football and Kabaddi in 2006 when Goverdhan Dass joined the Government Senior Secondary School in the village as physical training instructor.
"Initially, the parents were hesitant to send their daughters for practice. However, after great deal of persuasion and hard work, the children started learning the Sport. I was greatly surprised to see the talent that the girls had. Today, the entire village feels so proud to see our girls dominating the school football tournaments at the national level. With such limited facilities if the girls can do so much, just imagine what wonders they can do if basic facilities like a well-developed ground, adequate number of balls and other accessories are provided? The village can become a hub for football players in the country," says Dass with confidence. In 2008, the girls' team came second in the state school games and since then there has been no looking back.
"We love to play and inspite of harsh financial conditions and lack of infrastructure, we try to practice for nearly four hours a day," says Neelam, who has been the goal keeper for the team for several years. Neelam has been learning Football since almost six years and has participated in various National level tournaments. "Like all of us, I too hail from a very poor family. We do not have enough money to even have proper meal in a day, so taking coaching of International level is out of question," says Neelam. After attending school and helping mother in household chores and in the field, Neelam attends the practice session which lasts for almost four hours. "We get extremely tired as we are on our toes from morning till night. But still we love it and always dream of playing for our country," she adds.
Like her, Munesh Kumari too, has tough life. She has been practicing Football for nine years under adverse financial conditions. "We are a family of six members and hence it becomes extremely difficult to make both ends meet. Nevertheless, my family supports me a lot and feel extremely proud of my achievements," says Munesh with a smile. She too attends practice sessions after completing farming and household chores.
Munesh was lucky to be part of the Indian Team for the World school Football Tournament in France in April 2013. Four more girls were selected from the village but they couldn't go because they didn't have passport.
Seeing the extraordinary achievements of the girls, the government has appointed a football coach, Sonika Bijarnia, to help in honing the talents of the players. "The girls have the potential and grit to make it big at the national and international levels. What they need is proper infrastructure and monetary support," says Bijarnia, who feels it is equally important that the girls are given nutritious diet.
"Most of the girls are from poor families. As such, the scholarship and award money they receive is used to meet general household expenditure by their families. Therefore, the girls are deprived of diet required for the practice. Some diet allowance in the form of food articles, if given, can be of immense help. If it is provided, we can give them requisite food immediately after practice," she stresses.
According to Sports Medicine, a Football player of 16 to 18 years needs an average of 3000 to 4000 calories, lacking which they can face the serious problem of nutritional deficiency despite being good players.
The support given by the state is very nominal and hence fails to fulfill even the basic requirement. "We get around 20 sports shoes for the players. And there are 300 players, all of whom are needy and meritorious, and hence selection becomes difficult," adds Sonika.
"The villagers have been very supportive and are proud of the girls. After each victory, the villagers honour the players with cash rewards and blessings," says Bhupender Singh, Demonstrator Physical Education.
"Undoubtedly the girls from Alakhpura village have heralded a new era of not only women's football but of a social change in society," says Laxman Saini, DSO, Bhiwani. "Scholarships are provided as per rules of the government to the State and National level players on a regular basis. However, th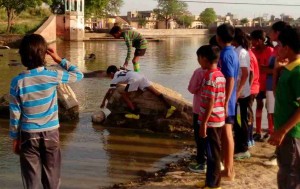 e government, too, has limitations as regards finances. Nevertheless, funds have been released for the construction of boundary wall and the work for the same will start very soon," he added.
"The Sports Minister is planning to visit the village very soon to take stock of the situation and there is a plan to open a Football Academy there," informs Saini.
The girls of Alakhpura have shown that adversity has the effect of eliciting talents and nothing is impossible if there is a will to succeed. However, it is now upto each one of us to help them become World Champions. If given right training, sporting culture and infrastructure and monetary help, these girls can surely help in improving our Olympic Medal's tally.