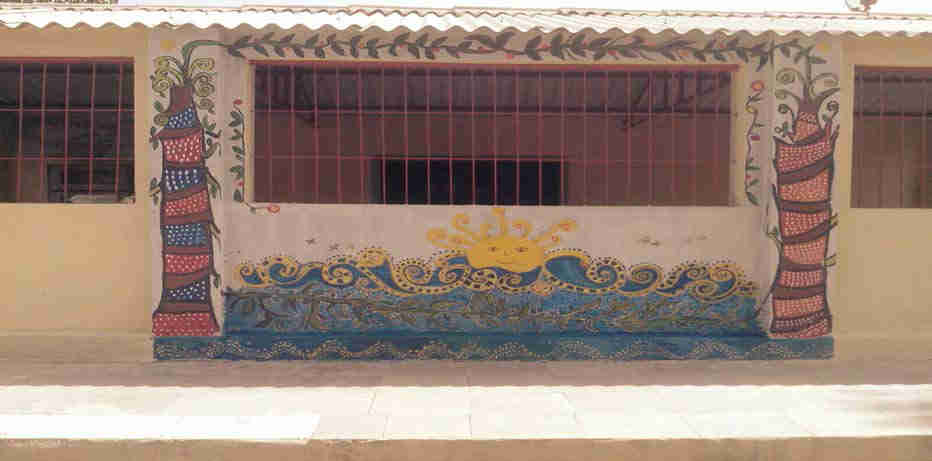 By:- Dr. Jayakar Ellis
Art for social change is a relatively unexplored idea that has huge potential for nurturing mental health, well being and to release stress and pent-up feelings. Khula Aasman, a non profit organization uses Expressive Art Therapy (music, drama and the visual arts) to bring about social change among various groups like under trials, women rescued from trafficking and children living in observation homes.
"Our experience of working consistently with these marginalised groups who are in conflict with law suggests that the meaningful engagement in Arts Based work enhances the sense of well-being amongst the inmates. KA sessions help the inmates to re-look at themselves in fresh light and help in re-modelling their life on a more positive ground. The art and crafts give an opportunity to work with their hands, showcase their talents, learn a skill and express their feelings in non-verbal ways as well. We have also noticed that there is lot of hidden talents within the inmates which given an opportunity can be well channelized for exploring alternate occupations as well as for their enhancement of self esteem. The engagement in the art activities act as a means to release of stress and pent up feelings," says Sarita Ganesh, the founder of Khula Aasman (KA).
"Neuroscientists are substantiating the power of art therapy for bringing about changes in the human brain. This body of knowledge will help eventually to gain more support to this branch of knowledge," she adds.
With six experienced therapists, Khula Aasman has so far worked with the prisoners of Kalyan and Thane jail; observation homes in Bhiwandi; David Sassoon Industrial School, Matunga; Jawaharlal Nehru Udyog Kendra; Dongri Children's Home and with rescued women at Shanti Sadan Gruh, Navjeevan and the Government Special Home for Girls, Deonar.
Methodology applied

The workshops usually begin with warm-up activities. "Before starting a session it is important to catch the attention of the participants and hence all workshops first begin with a meditation session," says Ms. Ganesh.
Meditation is followed by non-competitive games, which help body movements and improve group interaction. "These games are basically designed to be part of the warm-up ritual," says Snehal Gaikwad, a trainer who has been associated with KA since three years.
This is usually followed by the visual arts, where the inmates are given different colours (crayons, oil pastels, and sketch pens) and are asked to paint whatever comes to mind.
"With our objective to encourage group bonding, we began the mural painting session at Aadharwadi prison, Kalyan and took up representing meaningful artwork on the entrance wall and the inside wall of the literacy-classroom. This activity acted as a bonding agent for some women and for some, it gave way to overcoming the inhibition of being 'good' or 'bad' at painting," says Ms. Ganesh.
Clay sculpting is another art-based therapy KA uses frequently during its workshops. "Feeling how clay can be moulded, melded and rearranged can function akin to a stress ball: individuals can take their feelings out on a medium like clay during the process of creating a work of art" says Mr. Stalin, a volunteer.
Children, especially, enjoy making different items with clay which relate to their present lives. "One participant made a phone and gave it to another saying, "Here is the phone, please call your mom," he says.
KA also uses dance as therapy. "This is a form of authentic communication, and as such it is an especially effective medium for therapy. Besides it also adds an extra element of fun and joy," says Ms. Ganesh.
The choice of activities varies from place to place, and storytelling, collage and drama sessions are also incorporated.
"There is a need to incorporate Expressive Arts Based therapy as an essential practice for the recovery process of the inmates. It is not to claim that this can solely help the person to recover from trauma but it can play vital role in the recovery of a person as it much more indirect and gentle process.  If the authorities themselves will experience the power of arts for inner transformation I think they will be more open to adopt it as a method of intervention with the inmates as well," stresses Ms. Ganesh.
"As a society we have lost the imagination about the role art plays in keeping the sanity of an individual and the communities. The focus in this paradigm is of course not of the creation of a final sleek looking product. The key is in understanding that the process itself is the journey towards recovery and peace," says Mr. Stalin.
"The so called indulgence in art and craft gives us that little ME time to unwind and refresh for common people. Khula Aasman aims to create this ME time with populations who are completely at the periphery of the society, Most of the population we work with have never held the chalk in their hand, or brushed with colors or moved their body with the rhythm. The unfolding of mind -body connection opens up new doors of understanding of the self and the surrounding much for the person to re-discover, reflect and renew," says Ms. Ganesh.