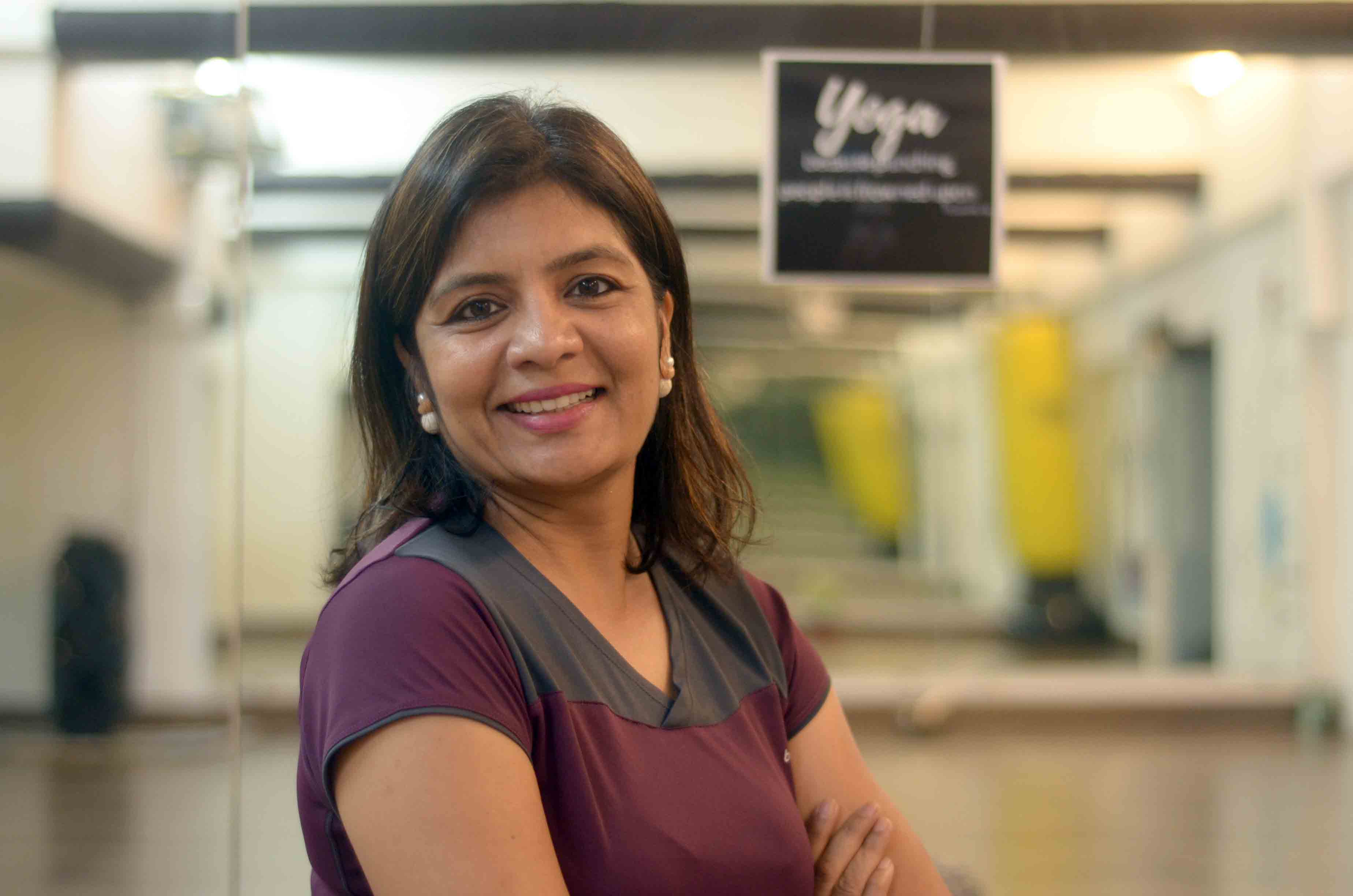 By: Varda Sharma
A homeopath doctor by profession, Dr. Rakhi Rathi Maniar (45) had an inclination towards fitness right from childhood. Hailing from a rural village in Vidarbha region (Dhamangson railway) near Nagpur, Dr. Rakhi was shifted to her maternal grandmother's home in Amravati after her parents separated. She was barely 6 at that time. Her maternal uncle, who was fitness aficionado himself, enrolled her to the famous physical education institute, HVPM (Hanuman Vyayam Prasarak Mandal) at Amravati in gymnastic, a sport which was relatively new in the country, with very few people attending it, let alone girls. "I was perhaps the only girl from the region who was enrolled for the course and wore the gymnastic dress," recalls Dr. Rakhi. A tomboy by nature, she was regularly reprimanded by her grandmother for "devoting too much time on activities unsuitable for girls". "Gymnastic became my soul and passion but for others, I became an acrobatic toy, who would walk on toes and do somersaults all the time," she says with a laugh.
She participated in a number of district, state and national level gymnastic competitions and was even selected to participate in an International event at France.  "I was quite young and the expenses too were quite high. Hence I failed to be the part of the team," she says. However, not the one to give up so easily, little Rakhi continued her passion towards fitness and even joined yoga course, gym trainer's course and Talwalkar's aerobic course. "In 1991, I was perhaps the first trained Aerobic instructor from Vidarbha," she says. On completing her Homeopath degree, she was married and came to Mumbai, a place she always "desired and dreamt of".
"Infact it was not the prospective groom, but the place where he worked- Mumbai- that fascinated me," says Dr. Rakhi with a wink, as she felt it would be easier to pursue her dream there. Luckily, her in-laws were very supportive and encouraging and helped her in pursuing her ambition. She started training aerobics to a group of women in a housing society in Bhulabhai Desai Road in 1997. "There were only three women in the beginning but gradually the number increased to 15 and then to almost all the women in the society," says Dr. Rakhi. She even started practicing Homeopathy from a polyclinic at Grant Road.
Turning point
While things were going smoothly, a turning point came in 2000 when the family shifted to Sanpada in Navi Mumbai. Dr. Rakhi who was already blessed with a baby boy by that time decided to take her passion to a new level and start her own fitness centre. It was, however, not so easy and there were several hurdles. The first and foremost being paucity of funds. "A fitness centre required a decent place, equipment and even staff and I had minimal funds," she says. Further, she had no knowledge about the intricacies of business practices-the requirements of various documents, licences etc. Besides, health club, as it was called then, was a relatively new concept in Navi Mumbai and was largely dominated by men. "It was a challenge to step into the largely male dominated space, but I, nevertheless, decided to take a plunge." Prayas- the Gym (meaning effort in Hindi) was started from a 450 sq ft rented premise in Sanpada in 2001 with just four basic workout machines. Due to paucity of funds, she doubled up as a cleaner, trainer, consultant etc. It started off with five ladies and gradually within a month, 20 ladies joined in. Within nine months, she was running four batches and shifted to a much bigger premise where she even introduced yoga
sessions along with aerobics and workouts.
"There were financial challenges especially during 2007-2009 when share market crashed and my husband lost his business," recalls Dr. Rakhi but she never gave up and continued to take risks and challenges, which by now "had become her hobby". In 2005, she bought the present 1,300 sq ft premise and gradually equipped it with the state-of-the art gym equipments.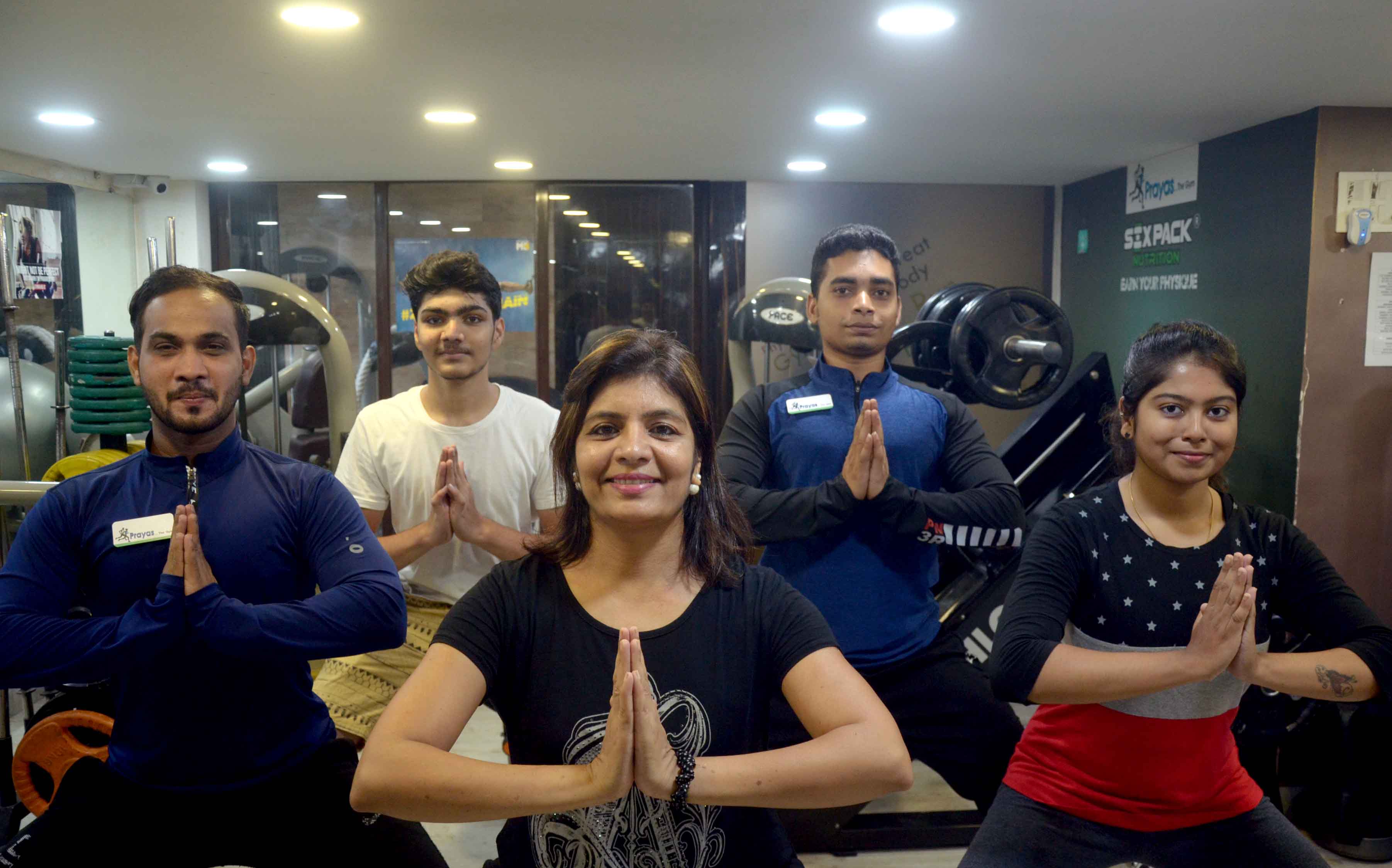 Today with 6 trainers, 'Prayas-The Gym' has become a one stop destination for all the health enthusiasts. There are unique group floor sessions, boot camp and functional workouts, motivational training, gym/yoga, aerobic and zumba sessions under the guidance of trained sports coaches and personal physical trainers. People from all walks of life and age groups are members of the gym. "There is no age bar for becoming a fitness freak. What matters is the desire to become health conscious," she adds.
"We also conduct marathon every year on women's day," says Dr. Rakhi. Last year in January a marathon was organized especially for visually impaired and cancer patients. Around 250 people had participated in the event. She has also started a new project "plogging run" (run with bag in hand and pick the litter from road) with an aim to be a
part of 'Swachh Bharat' initiative. This is getting huge response. A member of National Association for Blind, she provides employment opportunities to five talented visually impaired people in her gym.
Aptly says Dr. Rakhi, "My work is my passion and when your passion becomes your work, no one can stop you from going ahead."
Prayas-The Gym
Founder: Dr. Rakhi Rathi Maniar
Founded: 2001
Location: Navi Mumbai
Website: www.prayasthegym.com