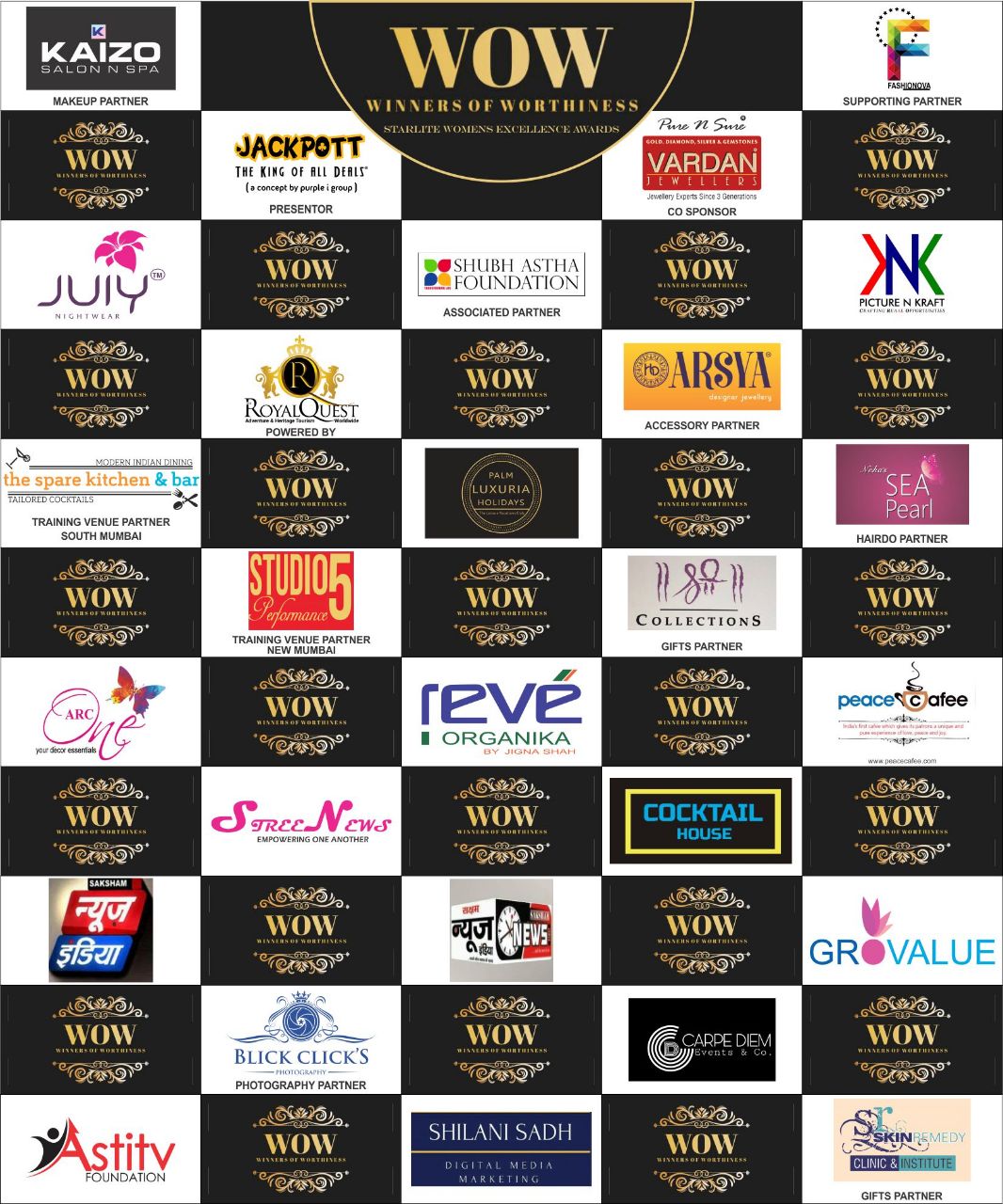 Mumbai: StreeNews joins hands with BE Publications and Shubh Astha Foundation in felicitating women achievers from different walks through 'WOW Starlite Women's Excellence Award'of life on May 11, 2018 at St. Andrews Auditorium, Bandra from 5 pm onwards.
The event, which is a tribute to all Mothers, is organized every year with an aim to celebrate 'womenhood' as a whole.
"At WOW we believe that every woman is an angel in true sense, who with her fortitude and grace, empowers and enlightens the whole being of the Human race," says Shobhaa Arya, owner and founder of BE and WOW events.
"We aim to bring all women from different segments of society under one roof and celebrate their outstanding achievements and contributions to the society and in various fields," she adds.
Every year, the event is organised with a unique theme and this year the theme is 'Change- Not only your clothes but your Soch (thoughts)'.
In accordance with the theme, a fashion competition will be held where the participants will showcase social awareness messages through fashion walk. "Unlike the normal fashion shows by the renowned designers, this fashion competition will be unique in many sense- it will not only showcase various creative costumes along with social messages but will be a platform for the young and upcoming talent to showcase their creativity and talent," says Ms. Arya. The main motto is to highlight that 'No age or zero figure' is needed to walk the ramp.
Ms. Kalashri Lata Surender will be presenting a solo dance performance 'Ya Devi-Ode to a Woman' during the event. The presentation will be glorifying the feminine principle ornately complimenting her diverse roles in this manifest world with meanings that highlight her duality as 'Shakti' -incarnating a woman as both merciless and merciful.
The event will be attended by various socialites and celebrities judging the competition including Ms. Neelima Azeem, chief guest, along with other celebrities like Smita Jayakar, Jayati Bhatia, Siddhant Surryavanshi, Sanjay Pandya, Leslie Tripathi, Mreenal Deshraj, Sajni Srivastava, Smitha Mohla, Deepshikha Nagpal, Diandra Soares and others.
Executive director of Wockhardt Pharmaceuticals, Mr. Huzzaifa Khorakiwala will be the special guest along with Ms. Sonia Ahluwalia, Mrs. India Queen Woman of Substance 2018.
The entire event is supported by 'Jackpot of all deals' as the presenter of the show along with Vardan jewellers as co sponsor; Peace café as Associate sponsor; StreeNews as online media partner and others. The event will be hosted by Ms. Anupma Singh along with co-host, Pankit Thakkar.
A two day pre-event shoot interview with all the awardees took place  at 'Taste of Punjab', Bandra.
"Women play various roles in her lifetime. She deserves a pat on her back. Through this event we try to recognise and honour them for their relentless work which is inspirational and motivating for each one of us," says Ms. Arya.