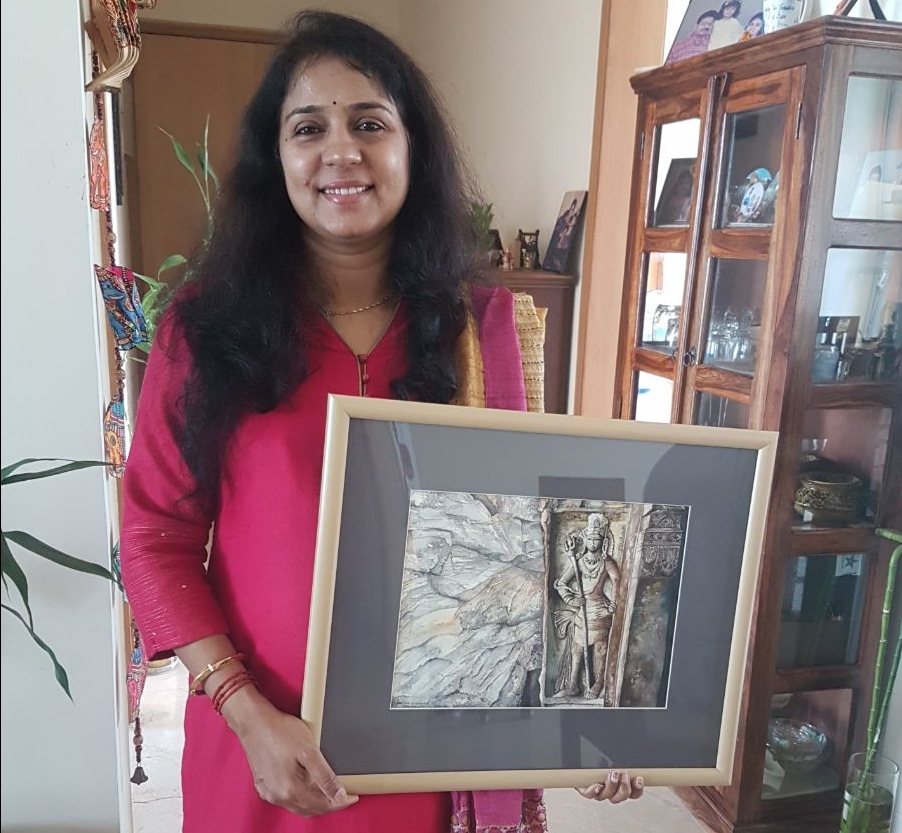 Anitha Sunil Kumar
By: Varda Sharma
Anitha Sunil Kumar (44) had a natural inclination towards creative pursuits since a very young age. Thanks to her mother, Shashikala Srinivasa Rao, who had a creative bent of mind that was reflected through her countless works across the wide spectrum of art, Mrs. Anitha (Post Graduate Diploma in Human Resource Management, Symbiosis, Pune) could easily experiment with various art techniques, without any professional guidance from a tender age. "I remember growing up watching my mother indulge in various forms of art play in the simplest of avenues. I believe art is an adventure where experiences can be conveyed through the union of colors and strokes to bring out the emotions across the spectrum," she says.
Although she had been practicing art on her own for many years, she felt the need to add a professional touch and approached Mr. AV Dhanushkodi in 2012, an eminent artist and a specialist in water colour painting. "The nuances of this technique and the subtleties in expression really brought immense joy to me," says Mrs. Anitha who started enjoying and experimenting with this medium.
   Senji Kottai (Fort) in Tamilnadu
"Although I have experimented with a lot of techniques (oil, pastel, acrylic, pencil, charcoal etc) creating various pieces from each, I was inclined to the medium of watercolor due to its modesty in expression but underlying richness. I felt it was easier for me to tell a story with this medium," she says with a smile realizing very well that "it was a rather challenging medium to master," in which "you do not have control over the technique infact it controls you!"
And what is the subject that fascinates Mrs. Anitha and excites her to put on canvas? Well, it is the rich, cultural history that the country is replete with. "My family and I enjoy the luxury of travelling and we indulge in it quite frequently. It is something we thoroughly enjoy and these experiences also accentuate my desire to paint. I am fascinated by history and the underlying beauty in everything we see," she says.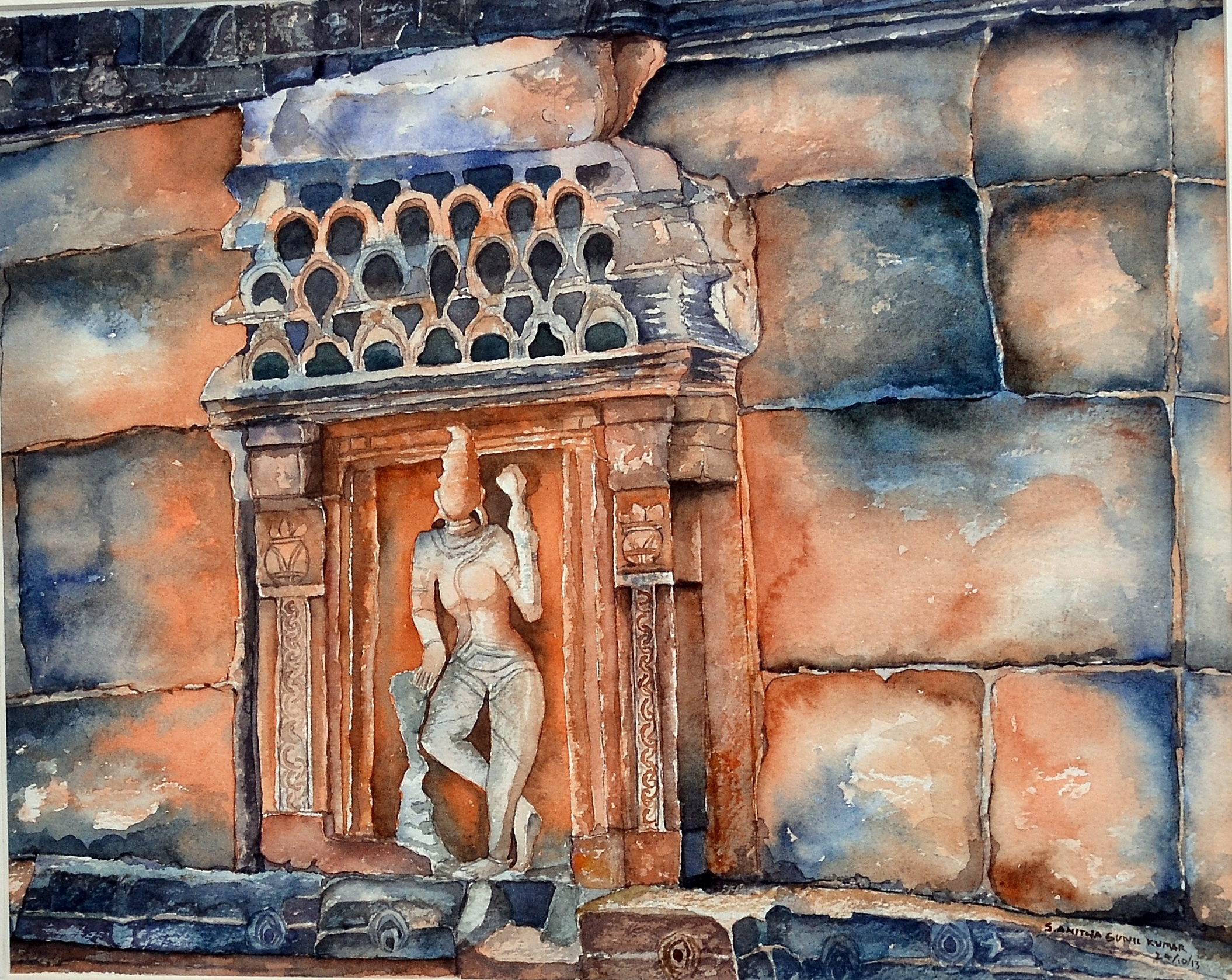 An intricate engraving from Pattadakallu near Hampi, Karnataka
Whether it is Hampi and Badami in Karnataka or Senji fort in Tamilnadu, her masterpieces highlight flourishing cultural backgrounds besides exuding an all pervading vibration in their own unique ways. "The pictures of Hampi and Badami give us an idea of the greatness of a once mighty empire and also its cultural richness," she says. On the other hand, the pictures of Leh elevate the audience, who view it, into a state of tranquility and ecstasy. "The warmth of the people coupled with vibration of the location encapsulates the essence of the mystic land," adds Mrs. Anitha.
She held her first solo exhibition in 2013 at Gallery Sri Parvati in Chennai, Tamil Nadu. Her second solo exhibition 'Timeless Memories' is slated to be held from May 29th, 2018 to June 4, 2018 from 5.30 pm onwards at Artists Centre, Ador House, Kala Ghoda, Mumbai where she will be displaying 25 works in water color.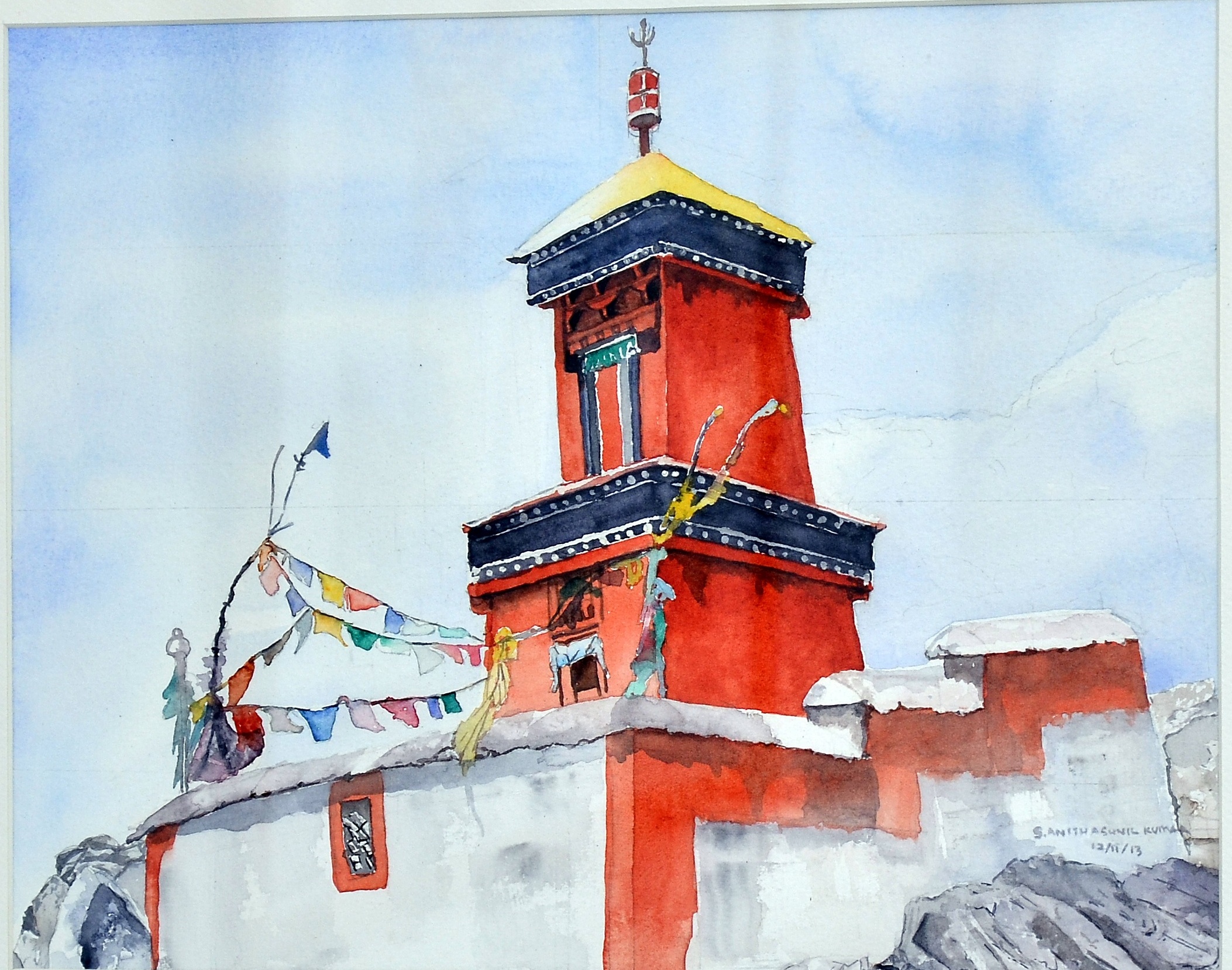 Part of a Gompa (Buddhist fortifications of learning) in Leh
Mrs. Anitha gives immense credit to her husband and daughter and other family members, who, she says, always encouraged her to pursue her dreams. "They have been massive pillars of support and have been a vital part in helping me through the years," she adds.
Mrs. Anitha is currently pursuing Post Graduate Diploma in Psychological Counseling and Guidance from Manasa Educational Foundation for Mental Health, Karnataka. She hopes to "inculcate this in the form of art therapy to help people in future and also conduct more exhibitions across various themes."