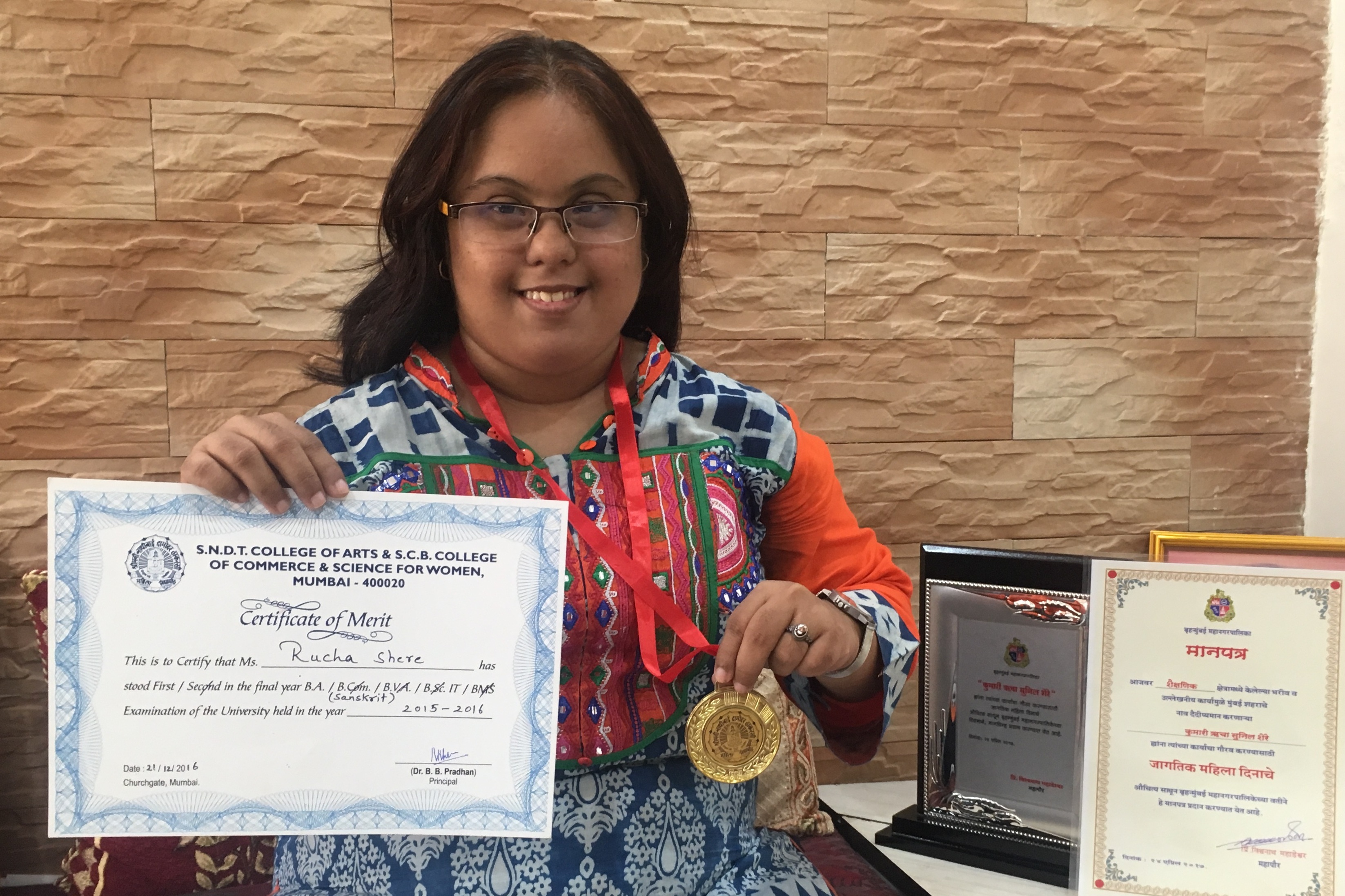 By: Varda Sharma
Rucha Shere (29) has once again succeeded in challenging medical history by bagging 67.5% in MA (Sanskrit) from SNDT University, Mumbai. Born with Down Syndrome (Trisomy 21), Rucha  has been defying the norm right from her birth. Says her father, Mr. Sunil Jagannath Shere (57), a resident of Borivali, "We were crestfallen when the doctors told us immediately after her birth that she may not be able to do even the basic chores without our support."
"It was shocking and heart wrenching for us to hear that," recalls Sunita S. Shere (55), Rucha's mother who at that time was working as Health Educator in a Leprosy hospital at Wadala.
Rucha has not only proved the doctors wrong but has infact become a source of inspiration for every individual. She has proved that if there is a will, grit and determination, nothing is impossible.
When Rucha turned two and a half, the parents admitted her to the nearby playschool at Girgaum, where they were staying till 1993. When they shifted to Borivali in 1993, Rucha went to a Marathi medium school 'Suvidyalaya' where she studied till fourth standard.
However, the teachers felt that it was becoming difficult for Rucha to cope up with the studies and advised parents to admit her in a special school. The parents tried to seek admission in other schools, but faced disappointment and finally admitted her in 'Sadaphuli School for Special Children' in Kandivali in 2000.
Fighter right from childhood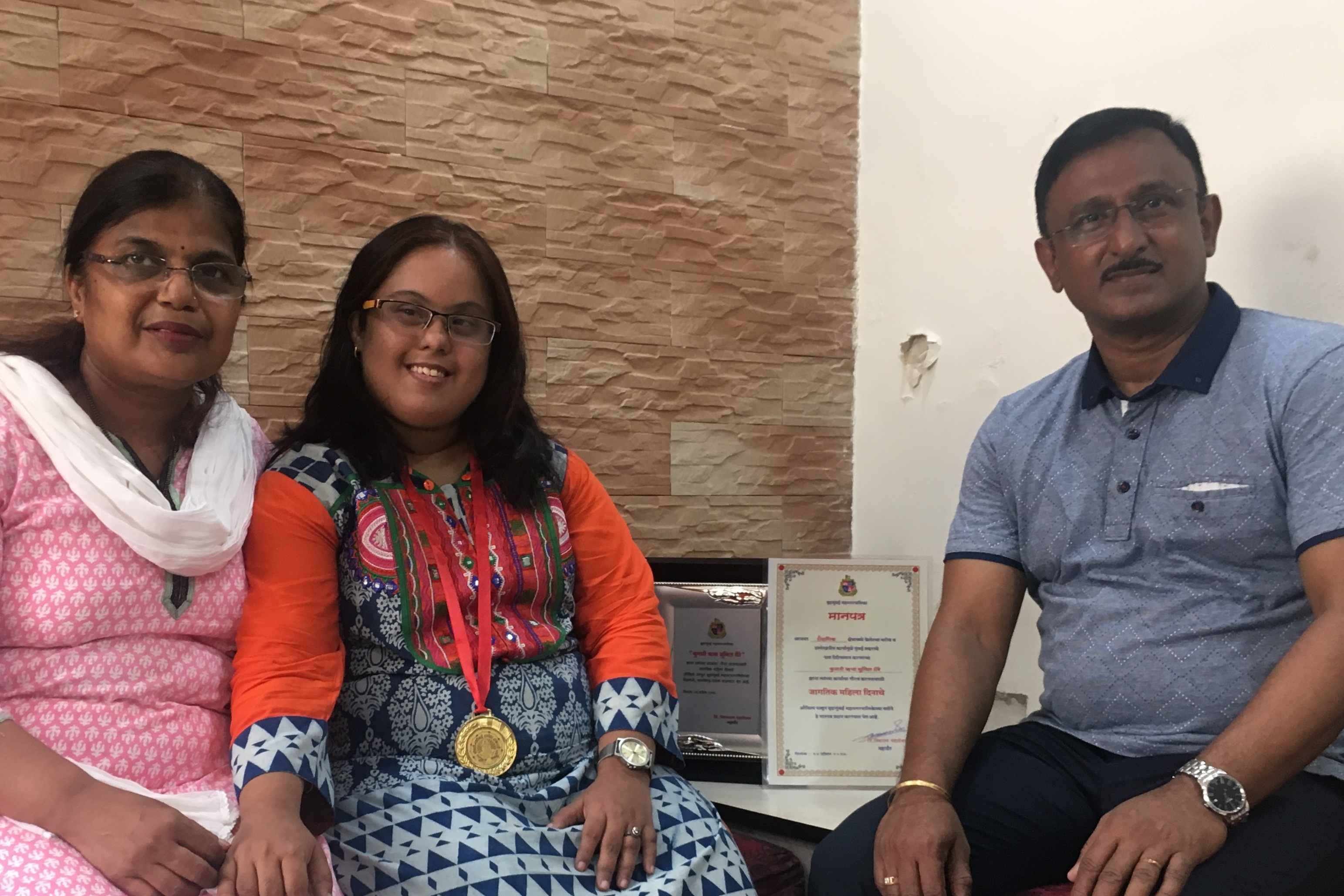 Rucha with her parents
Rucha with the help of her parents and senior special educator, Reema Wahi, continued to excel in studies and showed great deal of inclination towards extra-curricular activities as well.
"Rucha was an avid reader and had a good grasping power. All that she required was some remedial therapy," says Ms. Wahi. On her advise, Rucha was once again admitted in normal school in Shrikrishna Vidyalaya, Borivali where she studied from 2nd to 4th standard and then in 2005 went to Suvidyalaya, Borivali where she studied till 10th standard.
"While I loved Sanskrit, History and Marathi, I avoided Maths and English," says Rucha. "It was a challenge for me to develop her interest in these subjects," recalls Ms. Wahi. With the support of the teachers and especially the parents, Rucha passed her SSC exam in the very first attempt in 2011 and that too without a writer by taking only 30 minutes extra time. She scored an overall 58% with 70% in Sanskrit.
Rucha was the first DS child from the state to have cleared SSC exam along with regular children.
"I wanted to pursue Sanskrit in HSC as I really loved the subject and had developed a keen interest in it," says Rucha. After great deal of research on internet, she got admission in SNDT College, Churchgate, Mumbai.
Rucha's winning spree continued and in 2013 she not only cleared her HSC along with the regular students but scored 53% with 62% in Sanskrit. "Besides Sanskrit, another subject which was close to Rucha's heart was 'History and Development of Indian classical vocal music' and she scored 64% in this," says Mrs. Shere.
A Gold Medalist
Ms. Shere continued to scale heights with sheer grit, determination and hard work and in 2016 she not only cleared her B.A. with Sanskrit as Major but stood first in the University and bagged Gold medal. Awards and accolades started pouring in and Ms. Shere was given Mayor's Award by Mayor of Mumbai on 24th April, 2017.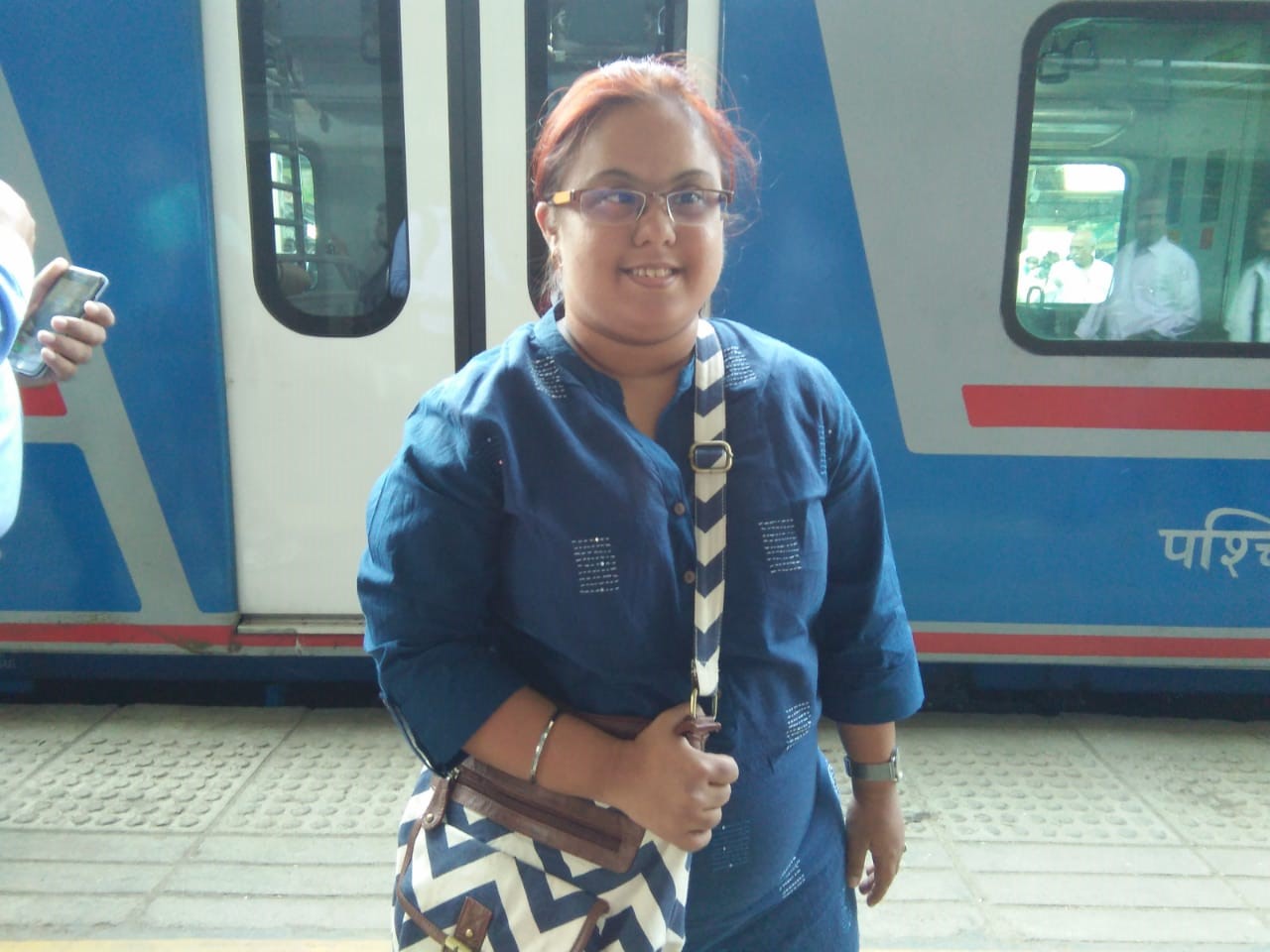 "This was the happiest moment of my life when I received Gold medal amidst loud cheers and claps," says Rucha with a grin.
She also received Smt. Vajkorbai G. Betai prize for securing highest marks in Sanskrit and Late Mrs. Mangala M. Mangalmurthy Kulkarni award for securing highest marks in Sanskrit in SNDT University.
She was also felicitated by Indian Medical Association, west zone, Juhu, Mumbai for her extraordinary feat that actually challenged medical history.
Besides academics, Ms. Shere is a prolific dancer and has passed four exams in Bharathanatyam with A+ grade and two levels from Shiamak Daver's Academy for Performing Arts, Borivali.
"She has performed in several solo, group and duet dances in the inter school competitions in college's annual functions and has won around 7 trophies, citations and awards," says Mr. Shere.
Giving back to the Society
"I love teaching and now plan to take up B.Ed. My aim is to promote Sanskrit and encourage children to take it up in higher standards," says Ms. Shere.
With that aim in mind, she has even started 'Subhashit mala' or motivational lectures by narrating inspirational stories from Sanskrit verses. She has conducted three such free lectures in Kandivali which was attended by around 15 people of various age groups from 15 years to 50 and above.