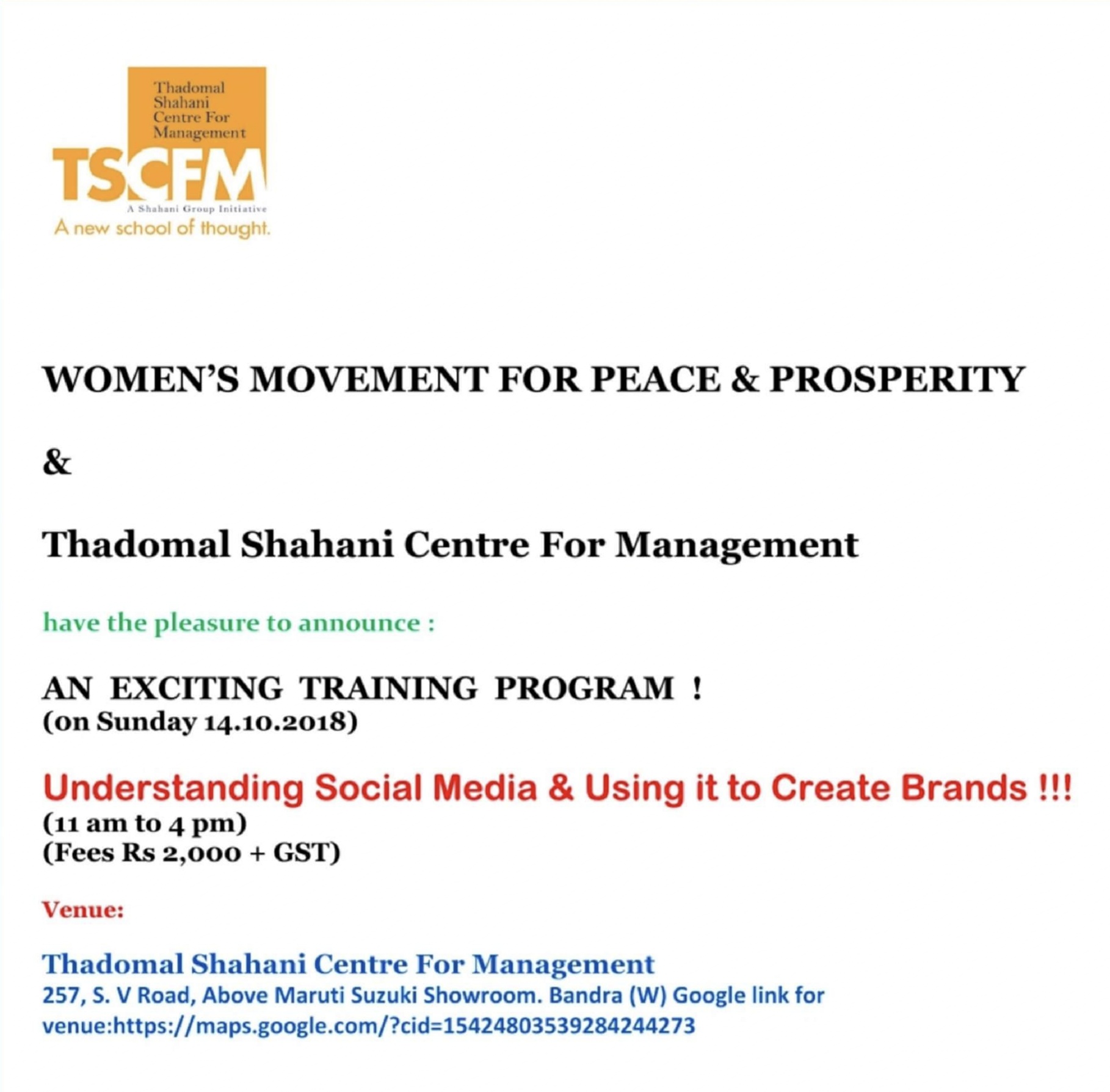 Today, over 500 million Indians have access to internet and the number is growing rapidly. The consumption of news and information is increasingly moving from traditional media platforms like print to the digital space – especially the social media. By 2022 it is expected that around 400 million Indians will be accessing social media, mainly via their mobile phones. Sensing the enormous opportunity, over 90% of Indian brands have shifted their advertising and marketing focus to digital space.
Women's Movement For Peace and Prosperity (WMPP) and Thadomal Shahani Centre for Management are organising an exciting training programme 'Understanding Social Media and using it to create brands' on 14th October, 2018 (Sunday) from 11 am to 4 pm at Thadomal Shahani Centre for Management, 257, S. V Road, above Maruti Suzuki Showroom. Bandra (W).
"The workshop would help the participants to stay on the leading edge of social media marketing and use innovative tools to generate real business results," says Mr. Ram Maheshwary, Ex Dir (TF) Times of India Group, Managing Trustee WMPP.
Objective :
Make people understand the entire social media ecosystem.
Offer incredible experiential learning opportunities in social media.
Brand building and Lead generation.
How to effectively use social media to manage crisis.
Topics :
Social media opportunities and challenges
Mastering Social Media, using special tools with a focus on Facebook, Twitter, YouTube, Instagram and Whatsapp
How to create a brand on social media and maximize its effectiveness.
Ms. Smita Deshmukh, senior editor and communications expert based in Mumbai, a journalist with 22 years of experience with top media organisations like the Times of India, Indian Express and DNA; a senior partner in Next Level Media, a leading PR firm and currently an independent media consultant running communication courses and planning media processes in public and private sector will be the Workshop Facilitator.
Fees payment
A fund-raising event for WMPP, the workshop fee is Rs. 2,000+GST (Total Rs. 2360). Advance payment is essential and can be paid online to:
Women's Legal Forum for Housing Societies
Bank : SARASWAT COOP BANK
A/C No: 431100100000152
IFSC Code : SRCB0000431
After payment, the participants are requested to kindly inform Ms. Prema Iyer (alamelu.iyer@shahanigroup.com) Ph: 9821868953