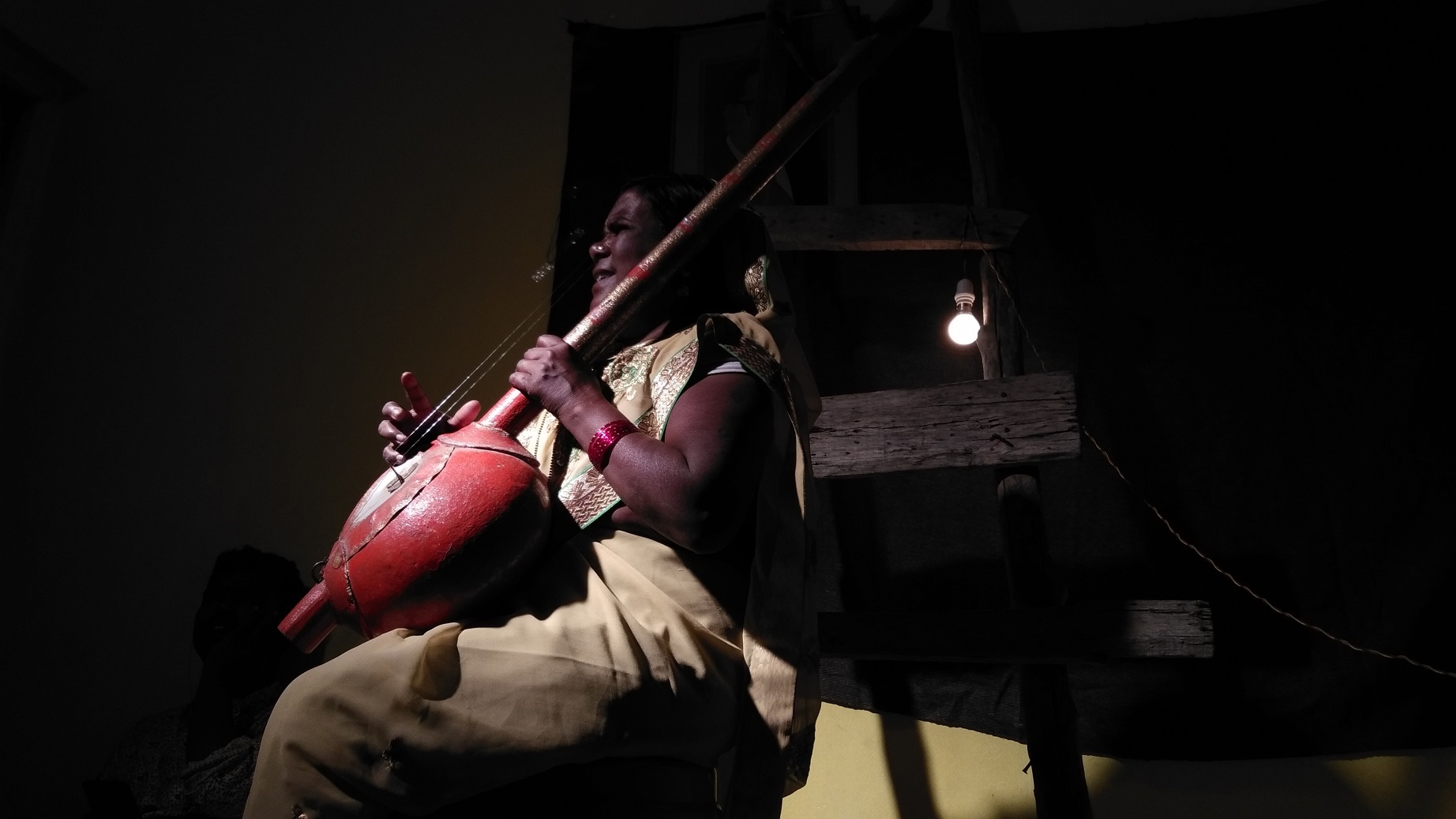 By: Dr. Pooja Sawale
The streets of Aurangabad are filled with delight when she sings her melodies. She is not only an artist but has become the voice of the oppressed and marginalised. The voice which has taken the lead is of Kadubai Kharat.
Kadubai is a Dalit folk artist who lives in Aurangabad, Maharashtra. She was married off at a very early age and later in life she lost her mother, father and husband as well. Left behind with her two daughters and a son, Kadubai undoubtedly had to face the consequences of poverty. Battling with her hardships, she could have lost all her hopes of living, but it was the teaching of her father which she always nurtured that helped her to sail through during tough times and these were the songs which her father taught her. She sings songs praising Dr. Babasaheb Ambedkar who is a father figure for all the deprived sections of the society. Along with her Ektara, she goes around singing and raises her children with whatever people contribute by listening to her songs.
Her songs not only depict the great deeds of Dr. Babasaheb Ambedkar but also throw light upon his ideologies; raising questions on society about education, health, politics and infrastructure which are still not trickling down upon the needy ones. Large amount of disparities which are still embedded in our country are revealed by artists like Kadubai.
Even in this era of globalization, our country faces huge internal disparities. Kadubai is just a single representation of those lakhs of mothers who still have to move around house to house just to fulfil their basic needs. The question still lies that despite such high levels growths why are we lacking behind in equality and equity in our society? We blame the state, the politicians and policy makers but we as individuals need to realise that it becomes our own responsibility to equally encourage our fellow citizens who cannot showcase their talent or skill due to lack or opportunities. It is the need of the hour to have a bottom up approach today so that the children and mothers of our own motherland do not become the prey of poverty and unemployment and each mother lives with dignity in the coming future.
A documentary is filmed on Kadubai by Team : Nijaat Collective

It is a group of students of Media and cultural studies, Tata Institute of Social Sciences, Mumbai
Below is the link:
Team: Nijaat Collective
A film by : Omey Anand
Art / creative head : Aniket Mohite
Research Head : Prashant Usha Vijaykumar
DOP : Omileelansh and Abhishek
Light : Sagar Pakale
The writer is currently pursuing, Masters in Public Health- Social Epidemiology, Tata Institute of Social Sciences,