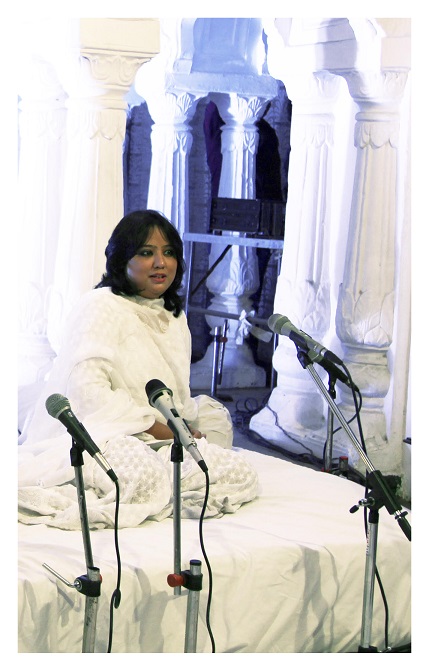 By: Varda Sharma
Dastangoi is an ancient art of oral Urdu storytelling which is considered to have originated in the 13th century. Fouzia Dastango, as her name suggests, is trying hard not only to revive this art form but also popularise it. So keen she was in pursuing this passion that she not only quit her job as Lecturer at the State Council of Educational Research and Training (SCERT) but became a full time Dastango or story teller.
Her journey
Fouzia had a deep interest in the field of arts and theatre right from childhood. "I am from Old Delhi, and ever since my childhood I had been listening to various stories. In my times, every second person on the streets was a storyteller who used to keep all of us hooked to their stories," she says. The stories, slowly became a part of her life and she decided to take this hobby of listening to stories, as her passion and profession. She started learning 'Dastangoi' from Mahmood Farouqi and Danish Hussain, the pioneers who started this artform in India.
The journey, however, was not easy. One of the biggest challenges was lack of awareness about this art form amongst the people. "Dastangoi is centuries old traditional art form, so people do not know about it. The task of making people understand what it is and asking them to attend it to experience the magic in real is even more difficult," says Fouzia.
Second challenge was the language that they use. "We use Hindi-Urdu with absolutely no use of English. People find it hard to understand them. But the ones who attend, even if they don't understand, just get enamoured by our efforts," she adds. The main challenge that Fouzia continues to face till date is finance. "We don't have any sponsors, hence no funding. Whatever money that we put in this, is our own," she points out.
Apart from these hurdles, Fouzia also faced gender centric comments. "It was after my second- third performance that a couple of people came to me and asked me how I, being a woman, had the guts to take up such a different profession. This irked me a lot and ignited the fire in me to break this patriarchal notion of only men being Dastangoi artists," she adds with conviction.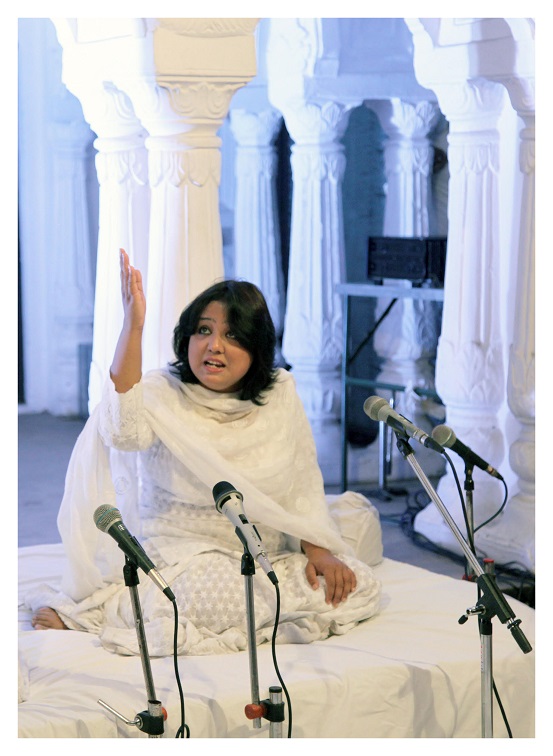 Inspite of these challenges, Fouzia has been able to make a mark as Dastangoi artiste. There have been many interesting incidents that motivate me to continue my work with more vigour, she says. Narrating one such incident she says, "It was a couple of years ago, I was in Delhi's famous Khan market. Suddenly a lady came to me and asked me if I was Fouzia Dastangoi and when I replied in affirmative, she took out her phone and showed me the videos that she had downloaded of mine as they were good and inspiring. She then asked me for an autograph too. I was just blown away by the fact that I had a fan. Definitely the best memory!," says Fouzia with a smile.
Modern renditions of old stories
Informs Fouzia, "In layman's language, Dastaangoi is the art of storytelling. 'Dastaan' means 'long story' and 'Goi' means 'to speak.' Through this artform, we bring into highlight simple and realistic stories, and make them unbelievably magnificent and larger than life. Our performances are in proper rhythms, even simple story get detailed description and give the feel of an actual movie." Fouzia has worked on many modern renditions of old stories. Some of them are: Dastan-e-mahabharat, Dastan-e-Khusro, Dastan-e-Ghalib, Dastan-e-Kabir, Ismat Chugtai stories and many others. Recently, she has also started revising the Dialects of Delhi which are on the verge of extinction even within Old Delhi. Some of these dialects include: Dilli ki Karkhandari Zubaan, Dilli ki Begmati Zubaan, Dilli ki Dhobiyon ki Zubaan, Dilli ki Naiyon ki Boli etc. She is developing specific plays/shows and also takes workshops on these dialects.
Awards and accolades
For her contribution in the field of preserving and promoting Dastangoi, Fouzia has been recognized and facilitated as "India's First Woman Dastangoi Artiste" by the Ministry of Women and Child Development, Government of India. She has been recognized among a select group of 112 exceptional women achievers, "First ladies", those who are first to set a milestone in their respective fields.
Her repertoire includes performances in various renowned festivals such as: Jaipur Literature Festival; Old World Theatre Festival; Kumaon Literary festival; Bookaru Children's Literature Festival; Mahindra Sanatkada Festival; Lucknow Literary Festival; and Jashn-e-Rekhta, among many others. Her work has been showcased by various national TV channels and print media.
Spreading awareness on Dastangoi
With an aim to spread this art form amongst youngsters, Fouzia, along with her team members, has started organizing workshops in schools and colleges. Other than this, they also go to places where they are invited to perform and teach. "Slowly, we are reaching out to people and we hope to continue the process of teaching and creating more artists," says Fouzia. "Through this medium, I also want to focus on social development. It is my desire to save our heritage and make the children learn their native language."
Fouzia also aims to focus on various social issues and spread awareness. "Recently I did a workshop in Lady Irvin College, Delhi wherein I converted a mental health case into a dastan. I want to keep doing this and use my art form to help in the better development of this nation," says Fouzia.
Fouzia Dastango
Website- http://www.fouziadastango.com/
Facebook: https://www.facebook.com/FouziaDastango/
About Dastangoi
Dastangoi is the ancient art of oral Urdu storytelling, considered to have originated in the 13th century.
Dastangoi has its origin in the Persian language and some people still believe that this art form actually originated in the 9th century Iran. However, there is no confirmation of this aspect as yet. Dastan means a tale and the suffix -goi makes the word mean "to tell a tale" i.e. storytelling in normal understanding.
One of the earliest references to Dastangoi can be found in The Hamzanama (Epic of Hamza) or Dastan-e-Amir Hamza (Adventures of Amir Hamza), which contains 46 volumes and has approximately 48000 pages. Dastan-e-Amir Hamza narrates the legendary exploits of Amir Hamza, an uncle of Muhammad (PBUH), though most of the stories and characters are fictitious. Generally, this work is best known for the enormous illustrated manuscript commissioned by the Mughal Emperor Akbar in about 1562. Hence, since its inception in the 13th century, this style of oral storytelling further evolved in the 16th century.
The last great Dastango, Mir Baqir Ali, was born in 1850 in the Pahari Bhojla locality of Old Delhi. (Coincidentally, Fouzia Dastango is also born and brought in the same locality of Old Delhi). Mir Baqir Ali was supposedly the last in a long line of Persian dastangos and was trained in the art by his uncle Mir Kazim Ali. With this demise in 1928, in the same Pahari Bhojla locality, the form almost died and vanished from the Indian sub-continent.