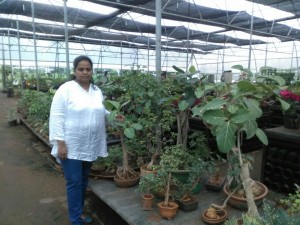 There's a Chinese proverb 'Whoever loves and understands a garden will find contentment within'. A look at Sadhana Deepak Rote and her beautiful bonsai collections reflects this so vividly. Sadhana finds tranquility, happiness and great joy in nurturing bonsai plants of different varieties and it is indeed a treat for nature lovers to see the nursery she has developed for Ashirwad Gardeners at Kharghar in Navi Mumbai.
"My passion for gardening, especially for bonsai, started when I was in 7th standard. I watched a Marathi movie which was based on Nature. I was greatly inspired and motivated and decided to take course in gardening", recalls Sadhana.
However, after completing grade 12, Sadhana got married but her passion for gardening and nature neve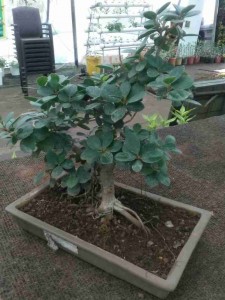 r diminshed. In 2006, Sadhana decided to get formal training in Bonsai and joined Indo-Japanese Association where she got training from Jyoti Parekh, President of the Association. "I have been lucky that great stalwart in this artform have personally given me training. Even now, I get encouragement and tips from another well known figure in this field, Shrikrishna Gadgil who runs "Indian Bonsai Society," says Sadhana with a sense of satisfaction.
"Raising and nurturing Bonsai is immensely gratifying and for me it is like food and medicine for the soul. Grooming and styling the Bonsai, year after year, seeing it bloom and blossom, is a real satisfying emotional journey,"she adds.
Besides Bonsai, Sadhana is also known for her 'Ikebana' or the art of flower arrangements and fruit carvings. She, however, specialises in grafting.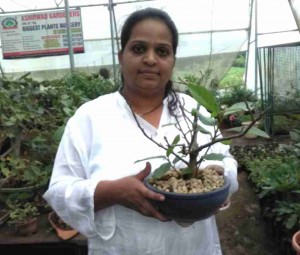 Recipient of several awards, citations and trophies, Sadhana, on behalf of Ashirwad Gardeners, also takes workshops and classes in schools where she teaches about Bonsai and the love for Nature to young students. "It is so satisfying to teach the young minds about Nature and about this Japanese technique. There's no age limit for learning any art and certainly not for Bonsai. What one needs is the love and passion for plants and the earlier we nurture this, better it is for our own well being," she opines.
From fruits to flowering plants and also the trees that grow in Indian climatic conditions, Sadhana has given her unique touch to each one of them. Ashirwad Gardeners, have all the vast collections of Sadhana's creations in their sprawling nursery.
"In this ever increasing pace of urbanisation, one really craves for open spaces and green patches. To be able to retain a connection with nature, 'bonsai' are the best substitutes. They not only make the room lively but also infuse positive energy," says Sadhana with a smile.