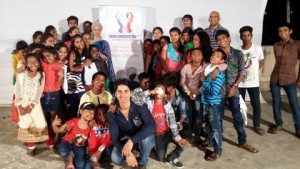 Many of us continue to hold the old school of thought that once we grow old, our best days are behind us and that we can no longer fully realize our dreams. However, this 70-year-old Nani (Grandmother) aka (Sona Kumar) defies this. For her, age is immaterial. What is important is to have the desire to fulfill your dream. At 70, she follows her dream to serve the society and is a pillar of strength to the 70 underprivileged slum people living in her vicinity.
"I worked for 27 years in Reserve Bank of India and retired as Assistant Manager. Although pay, perks and everything was perfect but I failed to derive job satisfaction. Hence, I left job as soon as pension scheme was introduced," recalls Sona.
In 1997, Sona went into severe depression for three years. One of the doctors suggested her to get involved in social work. On her advice, Sona started volunteering with an NGO called 'VOICE' who help vendor children at Andheri Railway Station.
"I would sit on the bench and wait for the vendor children who would come and go as and when the train arrived & left station. I would interact with them and tell them stories," says Sona, who started enjoying the smile that her narrations brought on their faces.
"Once the Trustee told me that some of the children were good singers. So, I decided to get them a chance on T V. I started visiting Zee T V office till they agreed to the request. We had to wait till their current show would get complete," recollects Sona.
To the surprise and joy of everyone, they finally got a call from Zee TV which invited kids for audition."I was asked to shortlist the children before sending them for the audition," says Sona. However, to her astonishment, most of the children had gone on vacation to their native places.
"I was in a dilemma as I didn't want to lose the golden chance so thought of contacting some other NGOs. "I took the help of a young social worker Ms Neeta Ratwani, who suggested that I could contact a shop owner in Bandra who sells products of the NGOs. The owner was very kind and handed over the telephone diary to me which contained the contact numbers of other NGOs," she says.
"On my request, the Zee T V agreed to change of team from vendors to challenged children," she adds.
Now the next challenge was to collect these special children and conduct an audition. "I had no knowledge of music so approached Mr. Nirmal Mirchandani who readily agreed & he tirelessly conducted audition of more than 100 children in a day. Once the children were shortlisted they were taken to Zee T V for audition," happily says Sona.
Few of the kids were selected and they were paired with a model & a policeman. The show was aired on Zee TV with Anu Kapur & Pallavi Joshi as host in 2001.
This success led Sona to join hands with other NGOs as well. She joined another Trust 'Swades' as a volunteer and worked with them for 10 years before starting her own Trust 'Sona Sarovar Trust' on 21st March, 2007.
"To start with, we hospitalized a 22 year old Polio stricken daughter of a part time maid, who finally walked out on her feet with the help of crutches. To make her a self reliant person, we donated a sewing machine. Today she is an entrepreneur woman," informs Sona.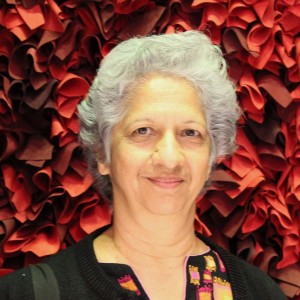 "We also did some rural projects like digging of well, building storage water tank, pond to save natural spring water going waste , solar lamp, toilets, organic farming, teaching art & craft like making snacks, Chicki, nutritious Ladoos, artificial Jewelry, Paper Bags etc.," says Sona.
The Trust gradually started Baal Sanskar Varg in a slum where anti social activities are a daily routine. 24 children of all religions, between 5 to 15 years of age are enrolled. The children are taught exercise for eyes, ears and lungs. Moral stories, games, arts & craft is a daily routine. To help the kids with their studies, tuition classes have also been started.
In addition, the Trust provides special medical treatment for needy, holds general health check up camps, dental, blood grouping camps etc. Kids are given Vitamin, Calcium, Iron tablets etc besides Sprouts, Dates, nutritious Ladoos, fruits etc.
"It is so heartening to see that some of our kids have won prizes in art and craft in the Inter school competitions. Thrice they have performed at Prestigious Auditorium called Bhaidas Hall. They gavefive performances during Ethos at H K College in Jogeshwari and got standing ovation," proudly informs Sona.
Five of the kids were even selected for two days workshop at J.J. School of Arts & the Dean presented certificates to them. "They have been invited by Corporate Banks etc & the officials could not believe that they are from slums since they maintain cleanliness, pass on food, gifts till the last child gets it," adds Sona.
During vacation the kids make greeting cards, designer envelopes, Rakhis, lanterns, apply Beautiful Mehendi designs. Girls learn Warli painting. 14 senior kids have been enrolled for Basket Ball coaching. The Trust has also started Beautician classes for girls.
"Once a child confessed to me "Nani, we love coming here as this is the only place where we are allowed to laugh" and it made me cry," says Sona with moist eyes.
"I feel blessed to support the underprivileged people irrespective of age and caste. I feel so happy when I see my kids perform so well in the competitions and in their life," says Sona happily.
The Trust recently received an award of "Transparency" from Guide Star India, India's largest reliable repository of NGO information.