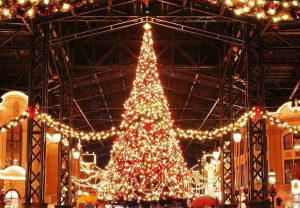 Mumbai: The vibrant Christmas and New Year celebrations are missing this year- thanks to demonetization of old currency notes of Rs. 500 and Rs. 1000 denomination. There is a steep downfall in the sales of decorative items used during the celebrations. While the shops have displayed the objects elaborately, there is a decline in the number of customers.
The sale for Christmas decorative items usually commences from November 25 and picks up gradually. But now with only a week left for Christmas, very few people are visiting shops," says a seller from Mumbai's Crawford Market.
"Demonetisation has affected almost 60% of the business. Most of the people do not have notes in smaller denominations and hence are refraining from buying products," said another seller.
The cash crunch has affected the customers as well.
"Kolkata- the City of Joy- joyously looks forward to Christmas season. The city dresses up for the occasion. Christmas shopping is an occasion on its own. The people of Kolkata truly look forward to this time of the year. But sadly, this spirit is missing this year. Demonetisation has marred the joyful spirit. We are unable to buy Christmas trimmings or gifts. The shopkeepers turn their heads away when they see the magenta currency note. Thus both the shopkeeper and the customers are left dissatisfied as neither have notes in smaller denominations. The use of Plastic is not entertained by them as yet," says Ruth Miller, a resident of Kolkatta.
"I generally start buying gifts for my family and friends a month in advance as I need to courier as well. However, with demonetization and only Rs 20,000 allowed to withdraw in a week, it has become very difficult to purchase anything," says Juliena B, a resident of Navi Mumbai.
Meanwhile, it is not only the business class that is facing the hardship even churches too are feeling the pinch. "We generally receive Rs 19,000 to Rs 20,000 as donations during Christmas. However, this year we have received only Rs. 9000 till date," said Fr. Shusant Mantri, of St. Francis De Sales Church, Navi Mumbai.